mDynamo
mDynamo is made for OEM solutions and is an EMV module that connects via USB with two auxiliary ports (SPI and UART)
This Chip Card Reader has Additional Connectors to Make Adding Magstripe and Contactless Easier
The board is well designed for a compact footprint while offering easily accessible SPI and UART ports with Molex connectors.

Chip Card Reader Ready for Mobile or Stationary Solutions
Ideal solution for mobile payment applications involving tablets and phones to accept payments almost anywhere.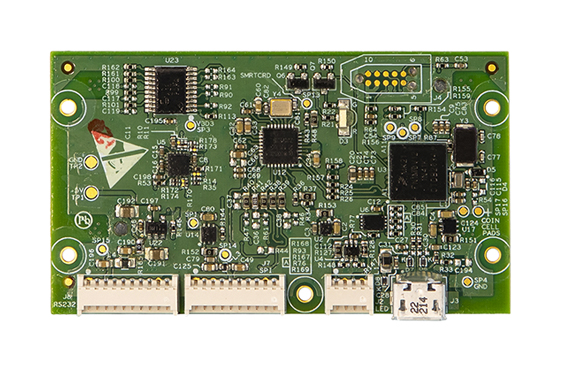 Simplified Integration Ready for Vending and Self-Service Solutions
Available SDKs and APIs make integration easier.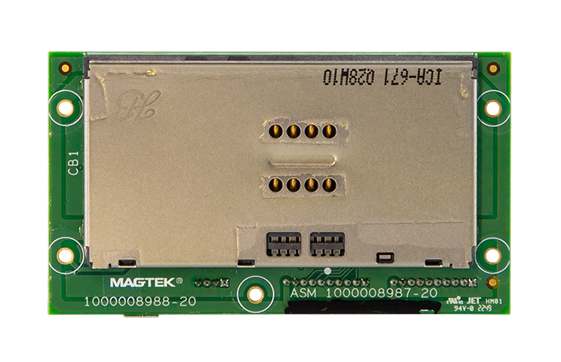 OEM EMV Chip Card Reader Ready for Integration into Small Payment Solutions
Invest in mDynamo and receive dedicated software, hardware, and support. Working with MagTek's OEM team is the fastest way to secure, compliant and flexible payment solutions for your custom device.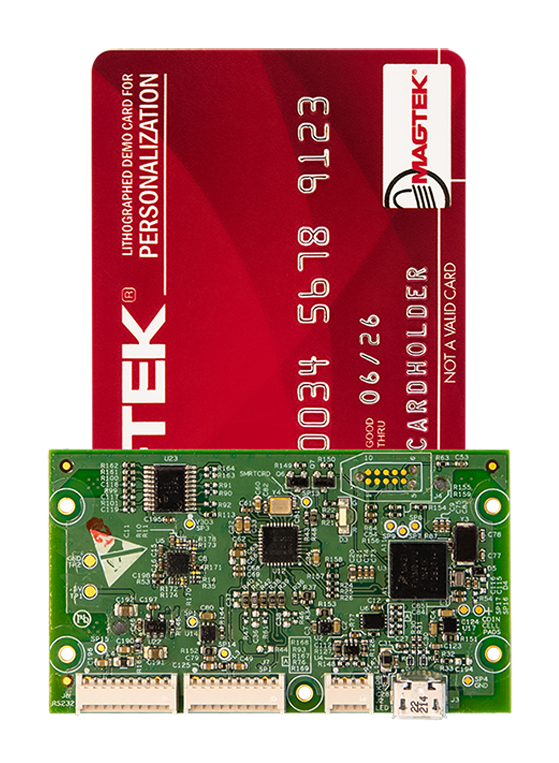 Secure Chip Card Transactions
mDynamo is built on the MagneSafe® Security Architecture which uses 3DES encryption and DUKPT key management to protect EMV chip (contact) card data.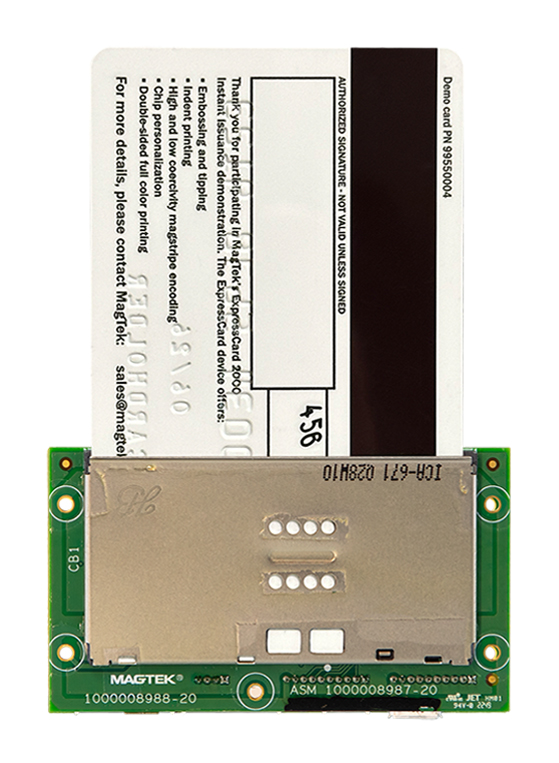 USB Powered Insertion Chip Card Reader
Secondary interfaces to incorporate optional card reading solutions where desired. The mDynamo is powered over USB so there is no need for additional cabling or external power supplies needed.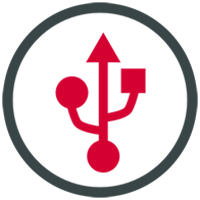 OEM Payment Components Built to Work Together - DynaWave, mDynamo, and The MagneSafe IntelliHead
mDynamo is an EMV module that connects via USB with two optional auxiliary ports (SPI and UART) giving users the flexibility to add a variety of identification and payment acceptance options in a compact, modular design including MagTek's DynaWave Contactless Payment Module and the MagneSafe IntelliHead for secure magstripe card reading.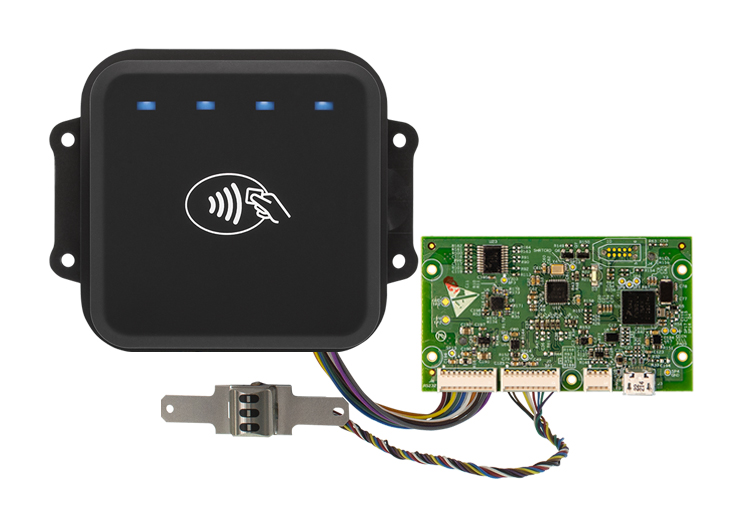 Ready to put the power of mobility in your hand
Its small size makes it ideal for mobility. Whether accepting payment or checking identity, mDynamo is ready for your OEM development.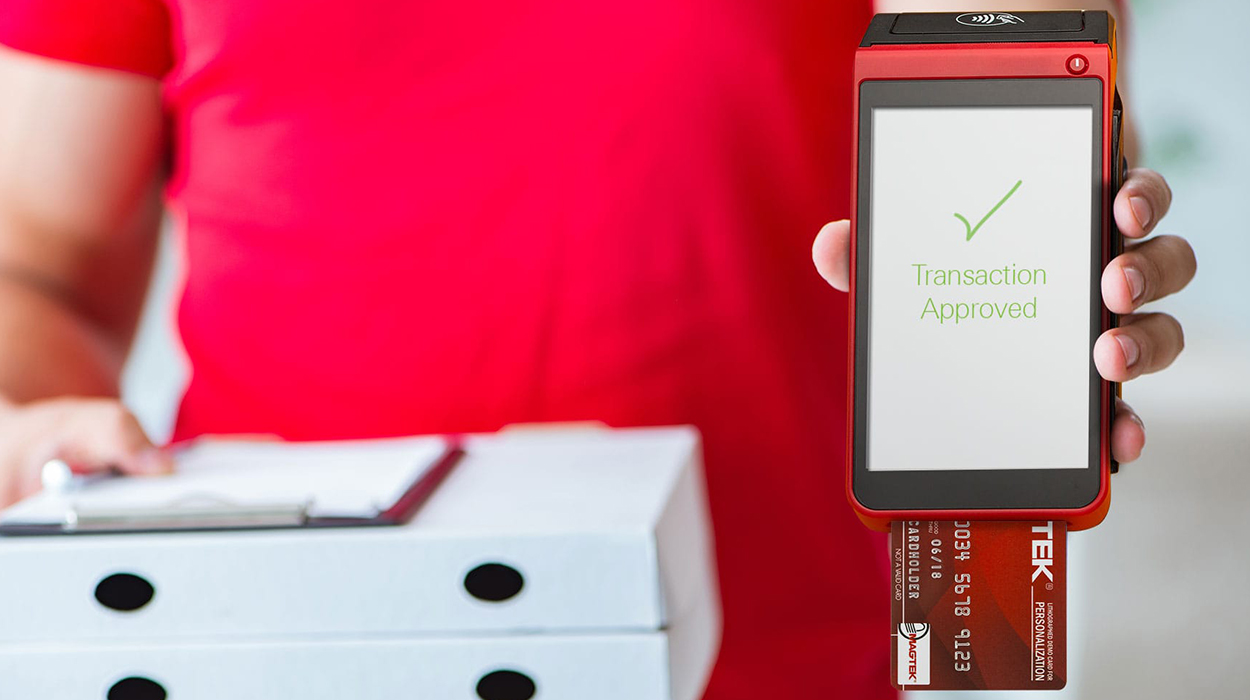 Payment Methods
Magstripe secure card reader authenticator
Triple Track (TK1/2/3); Bidirectional read
ISO 7810, 7811; AAMVA driver licenses
Optional added module
EMV chip contact


EMVCo L1 and L2 ISO/IEC 7816

YES

EMV contactless
EMVCo L1 and L2, EMV Level 1 /C-2/C-3/C-4/C-5
ISO/IEC 18092, ISO/IEC 14443 (Type A/B)
Optional added module
NFC contactless / mobile wallets
ISO/IEC 18092, ISO/IEC 14443 | (Type A, Type B) C-1/ C-6/C-7
D-PAS®, PayPass™ payWave®, ExpressPay®, Apple Pay®
Optional added module
Reliability and Operation
| | |
| --- | --- |
| MSR / SCRA swipes | Optional added module |
| EMV insertions | 500K |
| Tested Compatible OS(s) | USB: Windows 7, Windows 8.1, Windows 10 |
| Status indicators | General Status LED |
| Device Compatibility | USB host devices |
General
Connection Method
Micro-USB B, compatible with USB 1.1, USB 2.0
Vendor-defined USB Human Interface Device (HID) data format
Tested Compatible Operating System
Windows 7, Windows 8.1, Windows 10
Wireless (Frequency 2.4 MHz)
Optional Added Module
Interface
USB powered via Micro-USB B jack
Ports
1 general purpose SPI port (MSR)
1 general purpose UART port (NFC Module)
UART and SPI ports pass through to host
Web Services
Magensa Services
Electrical
Battery
NA
Power Outputs
5 VDC on USB power
400mA at 5.0V avail. on Auxiliary UART port
100mA at 3.3V avail. on Auxiliary SPI port
Security and Certifications
Compliance
(FCC, CE, UL)
















YES & ICC Interfaces: ISO/IEC 7816-1, 2, 3, & 4
EMV Co Cert
EMV ICC Specifications for Payment Systems Version 4.3, L1 Contact and L2 Contact
Encryption: TDEA (3DES)-CBC using DUKPT
FCC Title 47 Part 15 Class B
CE Level B EMC
CE Safety
UR/CUR UL Recognized
MasterCard TQM
California Proposition 65 (California)
IPC-A-610 Class II Assembly
EU Directive Waste Electrical and Electronic Equipment (WEEE)
EU Directive Restriction of Hazardous Substances (RoHS)
Universal Serial Bus Specifications 1.1, 2.0
Data protection 3DES encryption
DUKPT key management
MagneSafe Security Architecture
Unique, non-changeable device serial number
YES
Mechanical
Dimensions
L

x

W

x

H

or

L

x

W

x

D



2.60 in. W x 1.47 in. H x 0.30 in. T
(66mm x 37.3mm x 7.7mm)
Weight
0.5 oz. (14g)
Mount/Stabilizer
Solution-specific enclosure with card slot, screws, and inserts
Environmental
| | |
| --- | --- |
| Operating and storage temp | -4°F to 149°F (-20°C to 65°C) |
| Operating humidity non-condensing | 5% to 90% non-condensing |
View Support Resources for this product: