iDynamo 5
iDynamo 5 (Gen II) Secure card reader for mobile payments and digital transactions, built for iOS devices. Ready for curbside, drive-thru, and takeout payments. iDynamo 5 (Gen II) now uses a USB-C cable; see picture at bottom of page.
Mobile iOS Card Reader Made For
iPad and iPhone devices with Lightning connection including:
iPhone 14 Pro Max, iPhone 14 Pro, iPhone 14 Plus, iPhone 14, iPhone SE (3rd generation), iPhone 13 Pro Max, iPhone 13 Pro, iPhone 13, iPhone 13 mini, iPhone 12 Pro Max, iPhone 12 Pro, iPhone 12, iPhone 12 mini, iPhone 11 Pro Max, iPhone 11 Pro, iPhone 11, iPhone XS Max, iPhone XS, iPhone XR, iPhone X, iPhone 8 Plus, iPhone 8, iPhone 7 Plus, iPhone 7, iPhone 6s Plus, iPhone 6s, iPhone 6 Plus, iPhone 6, iPad Pro 10.5-inch, iPad Pro 12.9-inch (2nd generation), iPad Pro 9.7-inch, iPad Pro 12.9-inch (1st generation), iPad Air 2, iPad Air, iPad mini 4, iPad mini 3, iPad (6th generation), iPad (5th generation)

Mobile Magstripe Card Reader
Ideal for merchants and mobile users, iDynamo 5 (Gen II) offers MagTek security features combined with the power of iPad and iPhone products with Lightning connection. This delivers the flexibility to offer a fixed solution, mobile point-of-sale (mPOS) experience, or anything in between.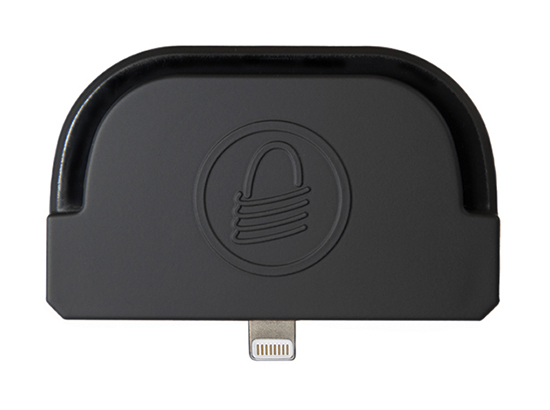 Mobile Card Reader Built for Performance
Our mobile card readers accept payments in a single reliable swipe. The engineered design includes stabilizing adapters that are made for specific iOS devices, enabling excellent, first swipe reliability.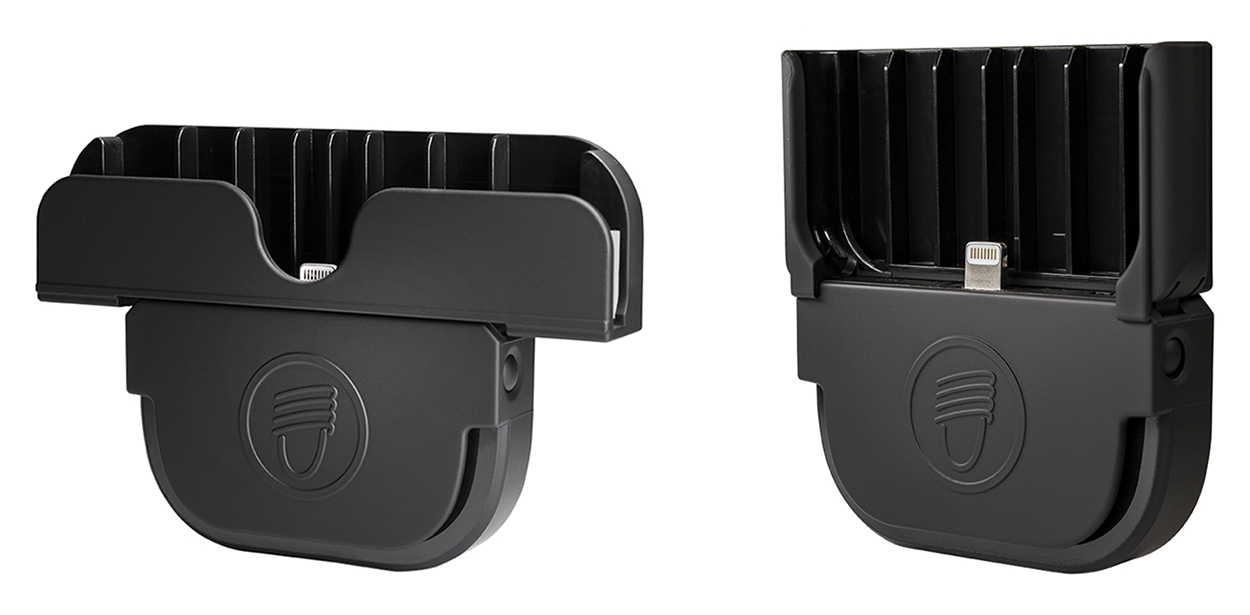 The Durability and Flexibility you Need in a Mobile Card Reader
In a mobile environment, you need your iOS card readers built to withstand rugged treatment.
iDynamo is certified to multiple point-of-sale apps, and our API allows that long list to continue growing.
Turn your mobile device into a carry-out, drive-thru, curbside pick-up, and delivery secure payment device.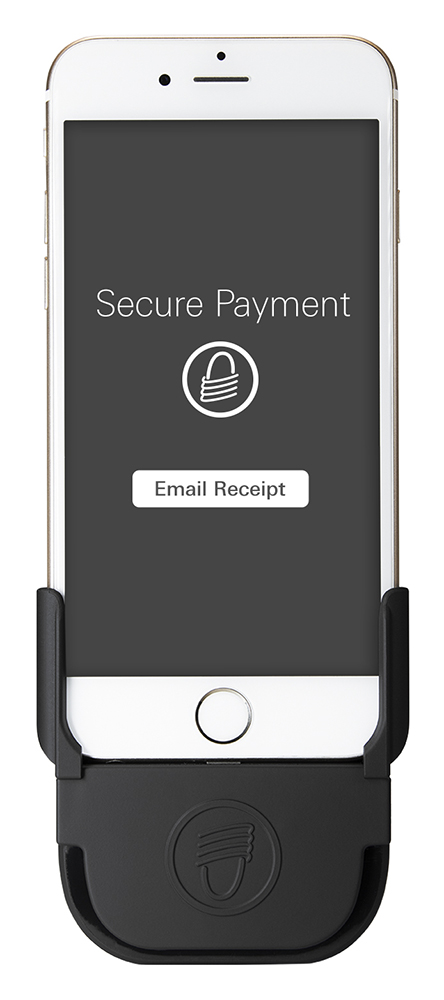 Secured by the MagneSafe Security Architecture
MagneSafe® is a digital identification and authentication architecture that safeguards consumers and their personal data. Designed to exceed PCI regulations, MagneSafe leverages strong encryption, secure tokenization, counterfeit detection, tamper recognition, data relevance and integrity, and dynamic digital transaction signatures, which together validate and protect the entire transaction and each of its components.

iDynamo 5 (Gen II) Now Uses USB-C Cable
To charge your iOS device while iDynamo 5 (Gen II) is attached, connect the MagTek USB-C cable and then connect the opposite end to the appropriate Apple charging adapter. USB-C cable is required.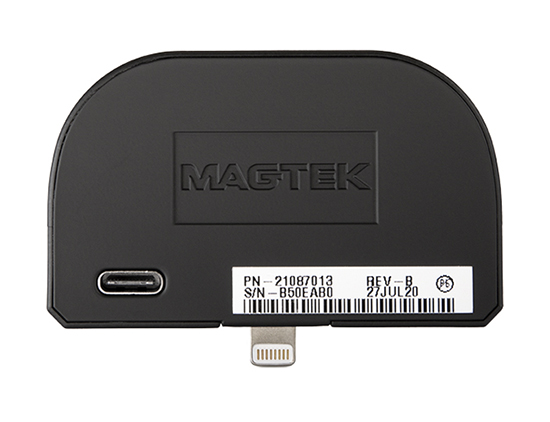 Mobile payment card reader
Mobile payments made simple. Ready for point of sale environments where line-busting, pay-at-the-table, or curbside pick up are needed. Equip with reader-to-device adapters for enhanced stability and read reliability.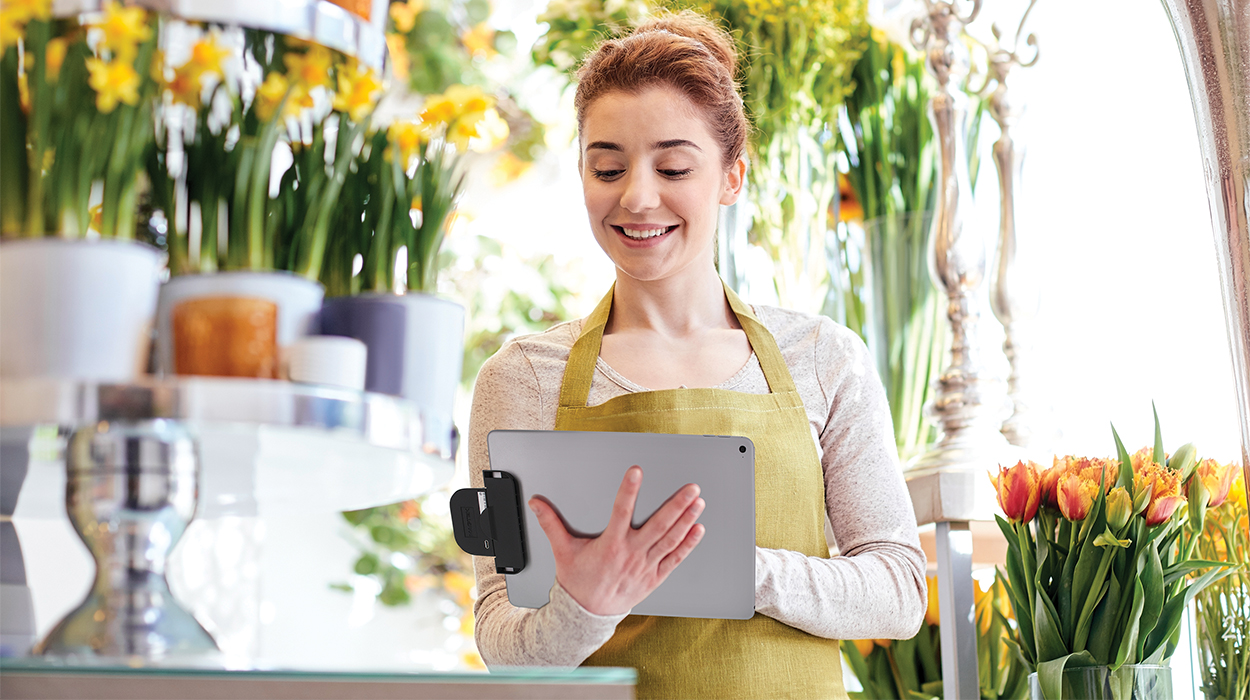 Great for in-flight payments
A reliable magnetic stripe card reader that receives power from the host device, there is no need to charge the device. With no internal battery to worry about, it is a great solution for in-flight payments.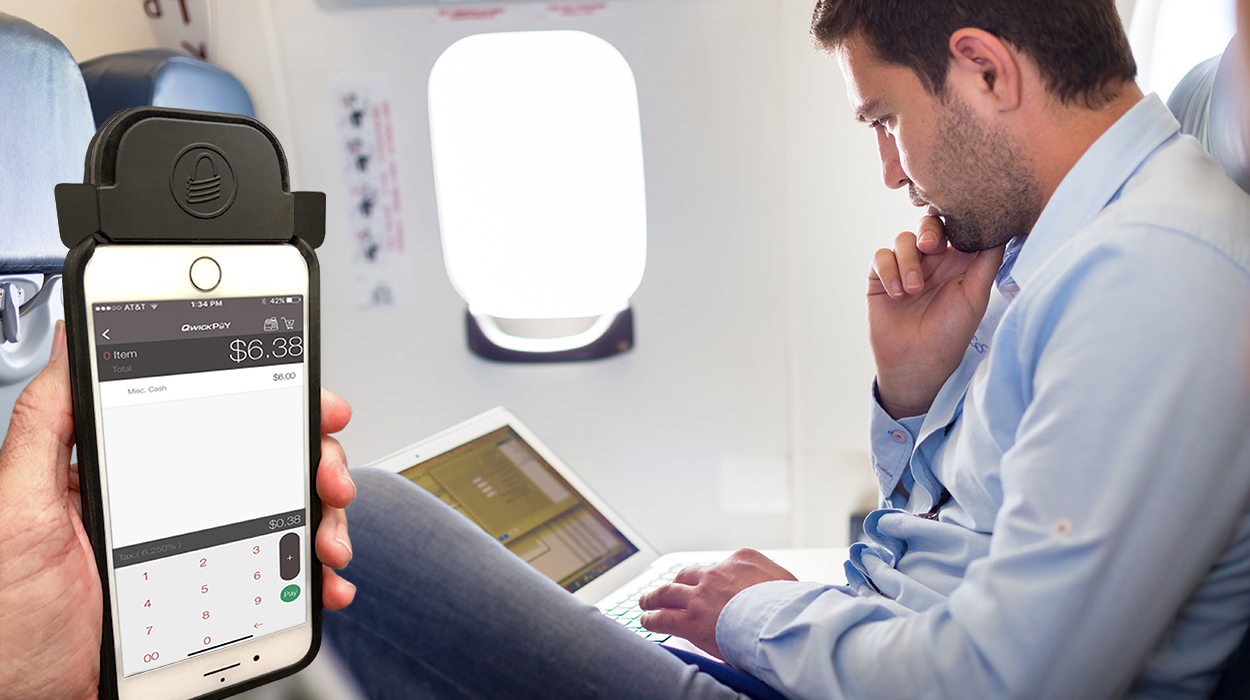 Payment Methods
Magstripe secure card reader authenticator Triple Track (TK1/2/3); Bidirectional read; ISO 7810, 7811; AAMVA driver licenses
YES
6 in./s to 60 in./s
(15 cm/s to 152 cm/s)
EMV chip contact
NA
EMV Contactless
NA
NFC contactless / mobile wallets
NA
Reliability and Operation
| | |
| --- | --- |
| MSR / SCRA swipes | 100,000 card swipes |
| EMV insertions | NA |
| Tested Compatible Operating System | iOS 8 and above |
| CPU and memory | Non-volatile |
| Status indicators | NA |
| Device Compatibility | iPhone 14 Pro Max, iPhone 14 Pro, iPhone 14 Plus, iPhone 14, iPhone SE (3rd generation), iPhone 13 Pro Max, iPhone 13 Pro, iPhone 13, iPhone 13 mini, iPhone 12 Pro Max, iPhone 12 Pro, iPhone 12, iPhone 12 mini, iPhone 11 Pro Max, iPhone 11 Pro, iPhone 11, iPhone XS Max, iPhone XS, iPhone XR, iPhone X, iPhone 8 Plus, iPhone 8, iPhone 7 Plus, iPhone 7, iPhone 6s Plus, iPhone 6s, iPhone 6 Plus, iPhone 6, iPad Pro 10.5-inch, iPad Pro 12.9-inch (2nd generation), iPad Pro 9.7-inch, iPad Pro 12.9-inch (1st generation), iPad Air 2, iPad Air, iPad mini 4, iPad mini 3, iPad (6th generation), iPad (5th generation) |
General
| | |
| --- | --- |
| Connection Method | Lightning |
| Wireless (Frequency 2.4 MHz) | NA |
| Wired connection types | USB-C for pass-thru charging |
| Display | NA |
| Secure Key Pad | NA |
| Optional Accessories | Cable and adapter stabilizers |
| Web services | NA |
Electrical
Power Inputs
USB C connector
Battery
No Battery
Voltage
2.85 to 3.47 VDC from the attached iOS host
5 VDC on USB power
Security and Certifications
Compliance (FCC, CE, UL)
YES
Data protection 3DES encryption;
DUKPT key management
MagneSafe Security Architecture
Unique, non-changeable device serial number
YES
Tamper
Evident/Resistant
Mechanical
Dimensions and Weight
L x W x H or L x W x D
2.47 x 1.5 x 0.58 in.
(62.7 x 38.1 x 14.7 mm)
Weight
w/o adapter 1.02 oz. (28.94 g)
Mount/Stabilizer
Device adapters
Environmental
| | |
| --- | --- |
| Operating temp | 32°F to 95°F (0°C to 35°C) |
| Operating humidity non-condensing | 5% to 90% |
| Storage temp | -4°F to 113°F (-20°C to 45°C) |
| Storage humidity non-condensing | 5% to 90% |
View Support Resources for this product: