eDynamo
Accept mobile payments, digital transactions, and secure countertop payments from this versatile magnetic stripe and EMV contact chip card reader
Secure Card Reader Authenticator for mPOS or Countertop Payments.
Turn your mobile iPhone, iPad, Android, or Windows devices into a carry-out, drive-thru, curbside pickup, and delivery solution or add the case for mounted countertop payment acceptance.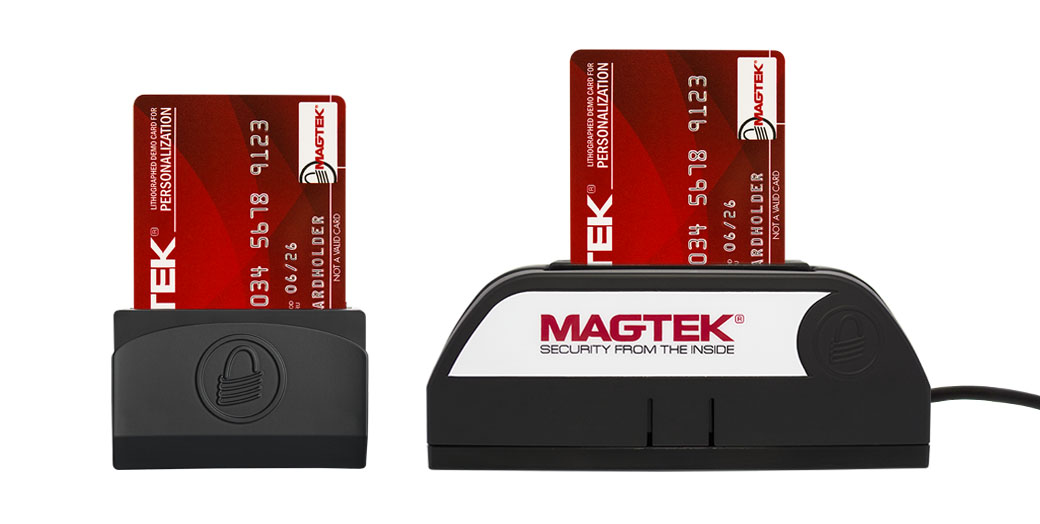 Add EMV Card Reading to Your Solution.
Whether accepting a traditional magnetic stripe cards or a contact EMV card, eDynamo gives merchants, banks, and organizations the ability to accept more payment types.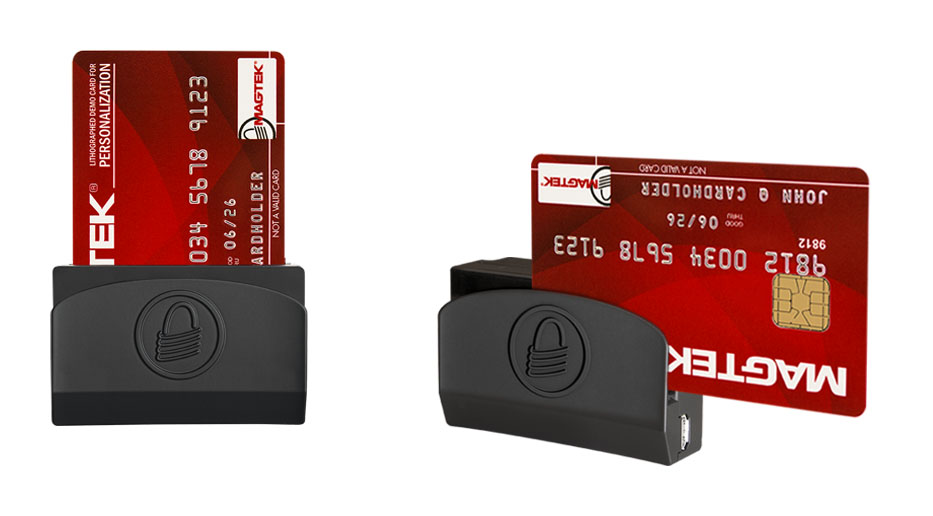 Mobile Card Reader with Bluetooth LE or USB Connection
Bluetooth LE gives you the freedom you need for mobile card reader payments. The low energy power consumption extends the life of the rechargeable batteries. If wireless is not preferred, then use the micro-USB cable and connect to a PC or mobile device with a USB host.

Compatible with a Variety of Operating Systems
Connect to your favorite iOS, Android, or Windows devices. Access the list of L3 certified processors, APIs, and Software Development Kits for iOS, Android, and Windows operating systems under support, to get your development started.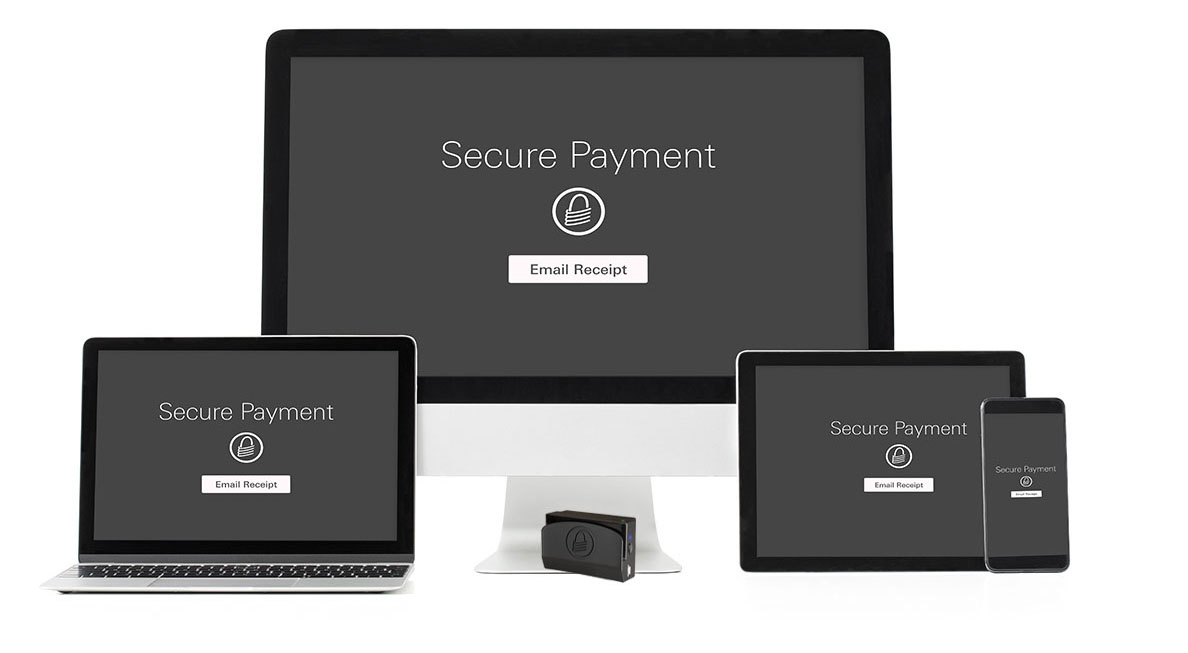 Handheld mPOS Card Reader or Secured Countertop Card Reader, You Decide
eDynamo has an ergonomic fit for handheld mobile. Optionally, the case gives merchants the ability to extend the length of the swipe path and mount the device where it makes sense for comfortable card reading.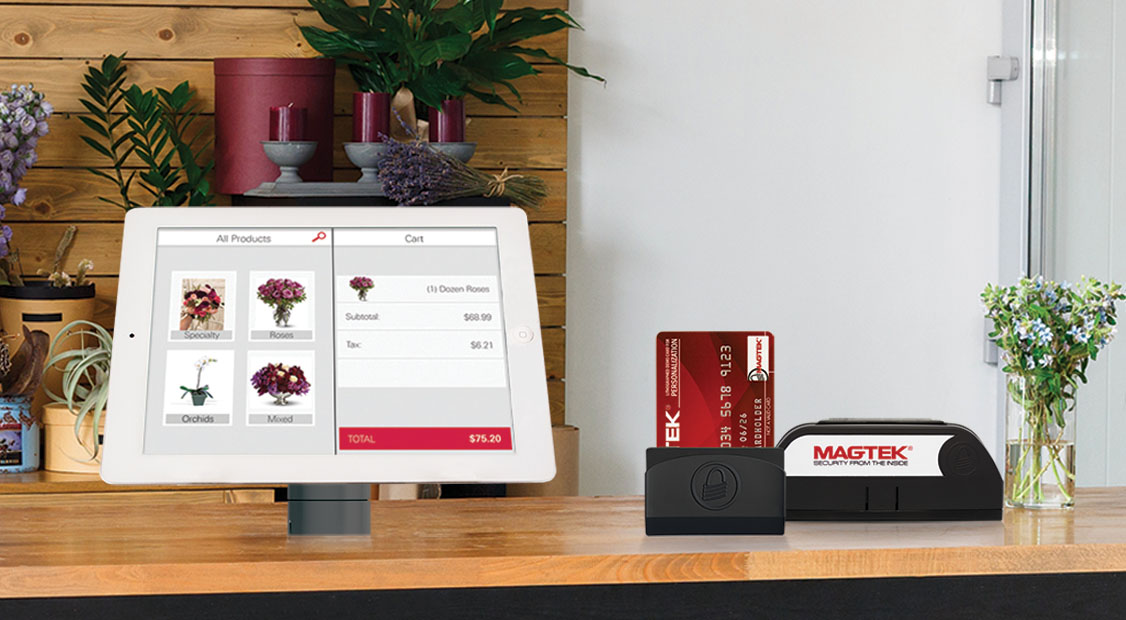 MAGENSA SERVICES | Solutions as a Service
Couple eDynamo with Magensa Service Solutions for faster development, reduced PCI scope, enhanced customer experience, gift card and loyalty card processing, remote services, tokenization of card data for recurring payments, invoicing, and certified access to major processors through the Magensa Gateway.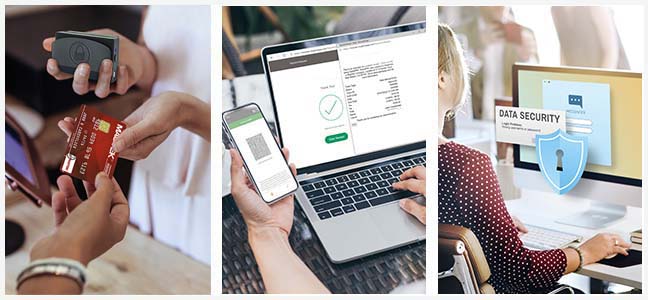 APPLICATIONS | Payment Acceptance
eDynamo is built for versatility. Turn your mobile device into a carry-out, drive-thru, curbside pickup, and delivery secure payment solution. Or create a secure point of sale at your service representative locations.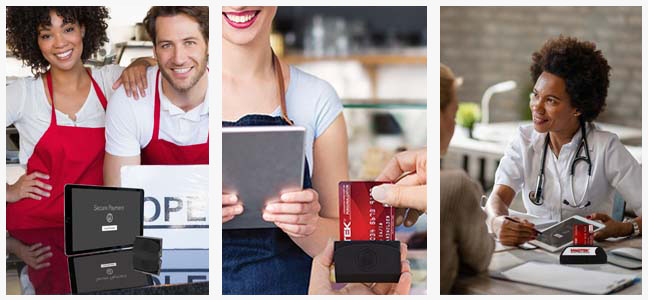 MagneSafe Security Architecture
MagneSafe® is a digital identification and authentication architecture that safeguards consumers and their personal data. Designed to exceed PCI regulations, MagneSafe leverages strong encryption, secure tokenization, counterfeit detection, tamper recognition, data relevance and integrity, and dynamic digital transaction signatures, which together validate and protect the entire transaction and each of its components.

Standalone Touchscreen Adapter or Custom Build
eDynamo is easy to add to countertop, mobile, or unattended solutions. MagTek adapters make attaching eDynamo to off-the-shelf touchscreens easier than ever. Or work with our engineering team to create a custom solution that works best for you (minimum quantities apply).
Standard Configurations
| | |
| --- | --- |
| Description | P/N |
| Black, EMV Chip and swipe reader | 21079802 |
| Optional mounting case | 21079809 |
---
General Information
Interfaces


USB HID

Color

Black

Magstripe

3 track, ISO 7810 and ISO 7811/ AAMVA

EMV Chip

EMV Level 1 contact and EMV level 2 contact

Tested Operating Systems

Connection Type:

USB: Windows 7, Windows 8.1, Windows 10, macOS 10.12 and above, Android 4.4.2 and above with USB OTG support
Bluetooth LE: iOS 7.1 and above, macOS 10.12 and above, Android 4.4.2 and above, Windows 8.1, Windows 10 on hosts with Bluetooth 4.0 hardware and above

Card Speed

6 inches per second to 60 inches per second

Magnetic Swipes

100k card swipes

EMV Insertions

100k card insertions
---
Electrical
Power Input

5V from USB bus

Max Current Draw

< 100 mA battery discharge rate when not charging
~500 mA battery charge rate when connected to USB charger
---
Security and Certifications
Compliance

EMV L1 Contact
Click here.
EMV L2 Contact
Click here.

MagneSafe Security Architecture

MagTek V5 with Encryption, Tokenization, Authentication, Dynamic Data

Magensa Services

L3 Certified Gateway, Remote Services, Tokenization, Encryption, Authentication

Tamper Resistance

Tamper evident
---
Mechanical
Dimensions

2.45 in. x 1.52 in. x 0.97 in.
(62.2 mm x 38.7 mm x 24.7 mm)

Cable Length

6 ft.

Wired Connection

Micro-USB B, configured to appear as HID

Wireless Connection Types

Bluetooth LE configured to appear as a GATT device

Wireless Range

Minimum 30 ft. (10 m) in line-of-sight conditions
---
Environmental
Temperature

Operating

32°F to 113°F (0°C to 45°C)

Storage

32°F to 113°F (0°C to 45°C)

Humidity

Operating

5% to 90% without condensation at 23°C

Storage

5% to 90% without condensation at 23°C
View Support Resources for this product: