Jan 10, 2019
Magensa Introduces Payments to QwickSign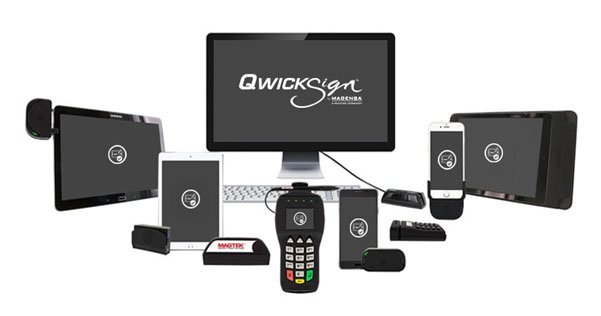 Businesses can now collect payments during e-signing processes
Seal Beach, CA, January 10, 2019 - Magensa, a subsidiary of MagTek, and a leading provider of technology and services to protect sensitive data, authenticate profiles and securely transact, today is announcing the immediate availability of Magensa QwickSign and Pay app and virtual terminal. This new version of QwickSign integrates payments capability enabling organizations to sign contracts and capture payment simultaneously.
"MagTek has built a reputation for providing innovative payment solutions across a number of industries," said Rod Vesling, Vice President and General Manager at Magensa. "QwickSign and Pay continues this tradition - bringing enhanced value for our customers, resellers, and integrators. Adding payment to signing processes reduces contract time, eliminates receivables, and drives business efficiency especially when transacting remotely."
Typical applications that benefit from integrated electronic signatures and payments include leasing transactions, electronic invoicing, business services, sales agreements, service contracts, and others.
QwickSign and Pay supports EMV transactions with MagTek"s popular eDynamo secure card reader authenticator. In addition, the solution is integrated with a variety of payment processors and gateways.
For more information, please contact Magensa at service.solutions@magtek,com or call 562.546.6500 or stop by Booth #4173 at the NRF Convention and Expo 2019, at the Jacob Javits Convention Center, New York City, NY, January 13 - 15.
About Magensa
Magensa LLC is a fraud prevention, detection and advisory service. It maintains a globally accessible registry of authentication information so that consumers, financial institutions, retailers, businesses and governments can assess the validity and trustworthiness of the credentials and products they rely upon in the course of online identification, payment, and other important transactions. Additionally, Magensa provides token management and cryptographic services, vital to the protection of cardholder data, the payment system, and personal or sensitive information. Magensa is a subsidiary of MagTek, Inc.