Registered to ISO 9001-2015
MagTek® is committed to designing, manufacturing and delivering quality products, which meet or exceed customer and regulatory requirements. Everyone in the Company is committed to fully satisfying our customers by continual improvement of our processes and products.
View ISO 9001-2015 Certificate of Registration.
MasterCard TQM
MagTek's control of the design, production and configuration management, including the change control and product management processes for EMVco approved Interface Modules (IFM) contained in the IntelliStripe 65 and IntelliStripe 320 products produced at MagTek's manufacturing facility, are in conformance with the requirements listed in the Terminal Quality Management (TQM) documentation scheme 4.0/1.2. Therefore, the IFMs can be installed in any Terminal that is approved by the MasterCard authority.
View the Terminal Quality Management Statement of Compliance.
View the Extension of MasterCard Terminal Quality Management Label
Visa Global Registry Service Provider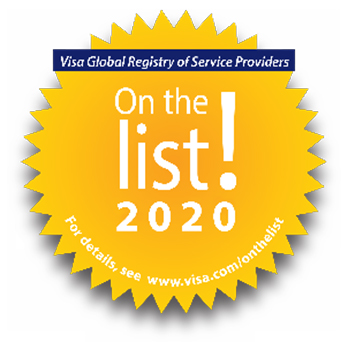 MagTek, Inc. and our wholly owned subsidiary Magensa, LLC are on the list. We have demonstrated compliance with the Payment Card Industry Data Security Standard (PCI DSS). We are a valued service provider on the Visa Global Registry and have shown our commitment to security by meeting the requirements of the PCI Standard.
We are on the list, see here: www.visa.com/onthelist
Quality Policy
MagTek's quality management system embodies the principles and philosophies of Continuous Improvement; It is modeled on the formal structured of ISO-9001, the Quality Management Systems Model for quality assurance in design, development, production, installation, and servicing.
MagTek initially obtained formal certification to ISO-9001:1994 version in 1999 working with QMI, North America's leading management system registrar. QMI focuses on certifying manufacturing companies with high quality standards and requirements. In 2002 the company upgraded its quality management system and obtained certification to ISO-9001:2000 version. Ever since, MagTek is audited semi-annually by QMI to ensure that the highest quality standards and procedures are maintained.
The following elements of TQM and ISO are addressed accordingly in the overall Quality Management System:
| | |
| --- | --- |
| Management | Vision, mission, commitment, leadership, quality policy, and objectives |
| Strategic Planning | Quality plans, procedures, processes, activities, quality infrastructure |
| Human Resources Management | Employee involvement and empowerment, continuous improvement teams, education, and training |
| Input Controls | Market analysis, customer needs, incoming quality assurance, supplier-customer partnering |
| In-Process Control | Control of design, specifications, materials, equipment, process control, documentation control, production control, process/product audit, and verification |
| Measurement/Analysis | Data collection and analysis, statistical techniques |
| Output Controls | Output audit and verification, conformance to regulatory and statuary requirements |
| Customer Satisfaction | Customer requirements and expectations, commitment, complaint resolution, satisfaction determination |