DynaPro
A multi-purpose PIN Pad for securing PINs, card data, and electronic signatures
PIN Pad with Versatility as its Second Name
This PIN pad accepts PINs, magstripe cards, contact and contactless EMV cards, and optional NFC payments, all in one device.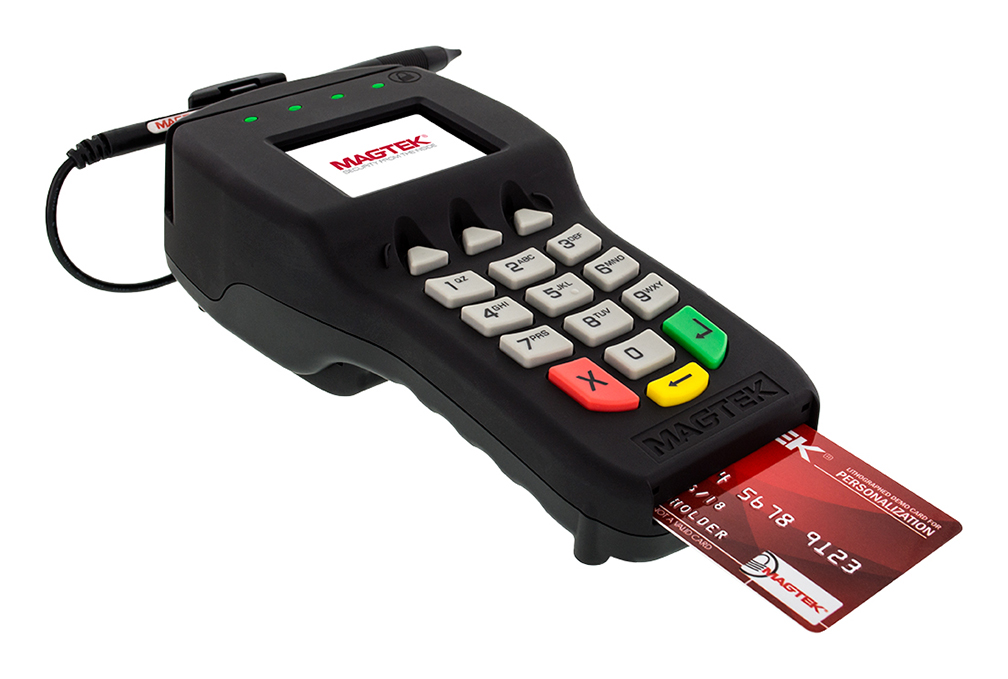 A PIN Pad that Connects to Your Platform the Way you Want
DynaPro connects via USB or Ethernet. It can be used as a handheld device or mounted to the countertop. Compatible operating systems Windows via USB, Android and iOS via Ethernet.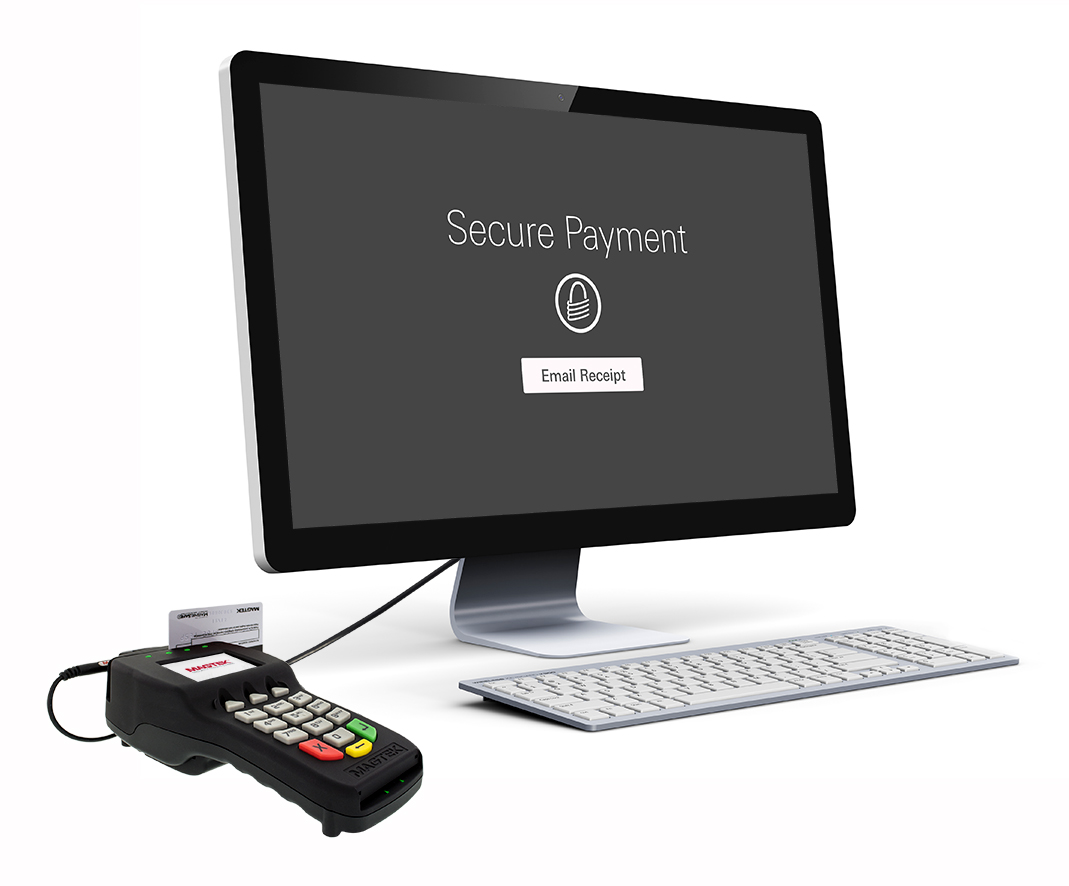 Countertop PIN Pad with the Options You Need
Optional real-time signature capture, security shield, Ethernet connection, and NFC capability let you decide the best fit for your environment.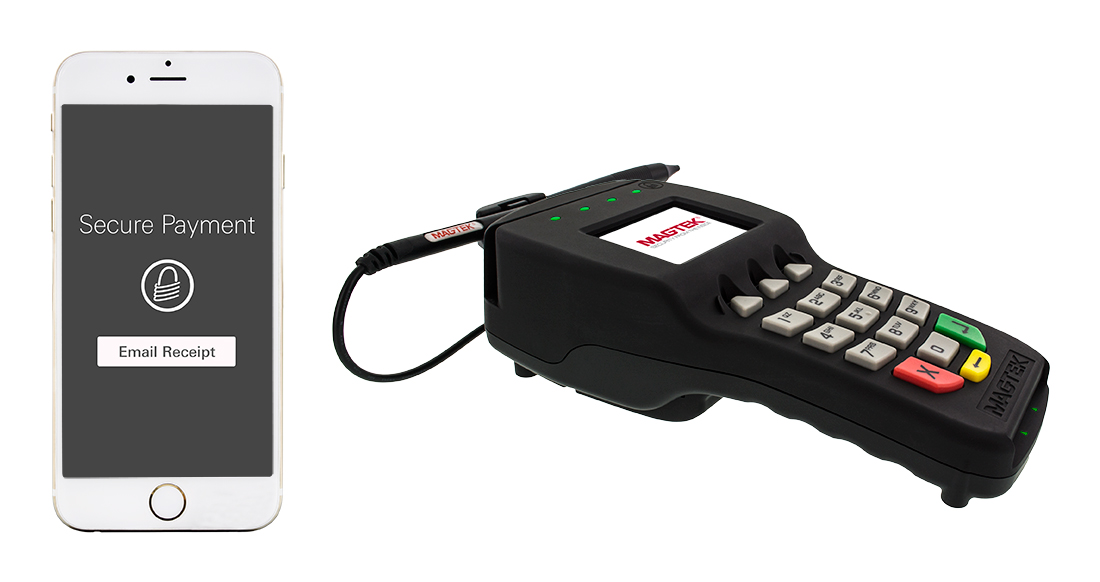 A PIN Pad that Makes Your Message Clear
The display is a bright 240x320 resolution backlit, TFT color screen.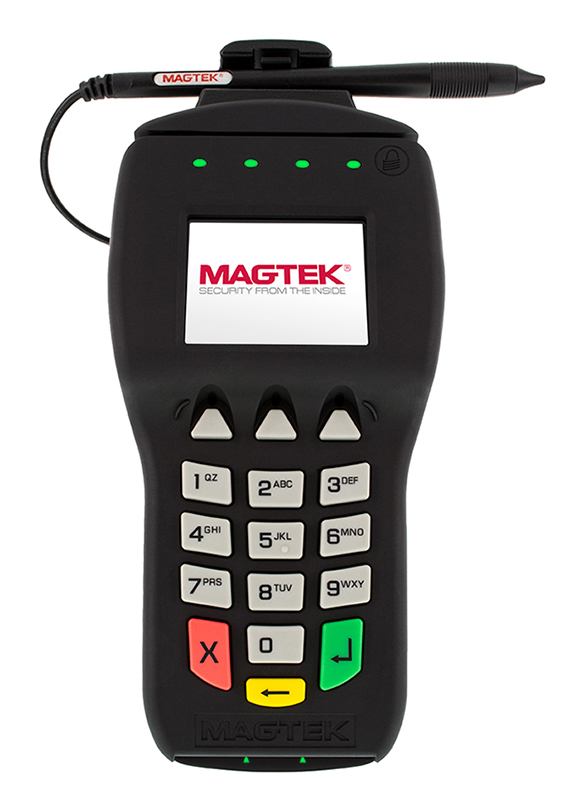 MagneSafe Secure
Industry standard 3DES encryption, DUKPT key management, and the MagneSafe® Security Architecture make it secure. Secures data the moment it is entered.

Secured by the MagneSafe Security Architecture
MagneSafe® is a digital identification and authentication architecture that safeguards consumers and their personal data. Designed to exceed PCI regulations, MagneSafe leverages strong encryption, secure tokenization, counterfeit detection, tamper recognition, data relevance and integrity, and dynamic digital transaction signatures, which together validate and protect the entire transaction and each of its components.

Ready for branch automation solutions
ID check, PIN and rePIN solutions, DynaPro speeds teller lines while ensuring the best in security.
Delivering countertop payment applications
Deliver contactless payments that are ready for retail, restaurant, and hospitality environments from the countertop to self-service kiosks.
Payment methods
Magstripe secure card reader authenticator

Triple Track (TK1/2/3); Bidirectional read
ISO 7810, 7811; AAMVA driver licenses

YES
6 ips to 60 ips
EMV chip contact

TEMVCo L1 and L2 ISO/IEC 7816

YES
EMV contactless

EMVCo L1 and L2, EMV Level 1 /C-2/C-3/C-4/C-5
ISO/IEC 18092, ISO/IEC 14443 (Type A/B)

YES
NFC contactless / mobile wallets

SO/IEC 18092, ISO/IEC 14443 | (Type A, Type B) C-1/ C-6/C-7, D-PAS®, PayPass™, payWave®, ExpressPay®, Apple Pay®

YES
(For Interntational use select DynaPro v3)
Signature Capture
Optional YES with Stylus
Reliability and Operation
MSR / SCRA swipes
1 Million
EMV insertions
500K
Operating System
Windows XP or later (32-bit or 64-bit);
Microsoft .NET Framework version 2.0
(Not required but suggested)
CPU and memory
32-bit secure processor
256 MBit flash memory
64 MBit internal SDRAM memory
Status indicators
For EMV card insertion
Device Compatibility
Windows
General
Connection Method
USB or Ethernet
RJ25 modular jack
Wireless

(Frequency 2.4 MHz)

NA
Interface
USB 2.01 (USB 1.1 compatible) or Ethernet
Display
320x240 pixels
Backlit; color liquid crystal dsiplay (LCD) TFT color
Secure PIN Pad
16 Keys (3 Function Keys), raised marking,
ADA compliant
Optional Accessories
Privacy shield
(NFC/contactless & power adapter)
Web services
Magensa Services
Electrical
Charging
NA
Battery
Lithium
Current and Power
USB port powered. 5VDC, 250mA
Power adapter required for contactless and Ethernet options: 5VDC, 900mA
Security and Certifications
Compliance
YES & PCI PTS 3.x & EMV Co
In SRED mode compliant for use in PCI-DSS and
PCI P2PE environments
Data protection 3DES encryption;
DUKPT key management
MagneSafe Security Architecture
Unique, non-changeable device serial number
YES
Tamper
Evident/Resistant/Responsive
PCI PTS 3.x, SRED

In SRED mode compliant for use in PCI-DSS and PCI P2PE environments

Click here.
EMV L1 Contact
Click here.
EMV L2 Contact
Click here.
EMV L1 Contactless
Click here.
Environmental
| | |
| --- | --- |
| Operating temp | 32°F to 113°F (-10°C to 45°C) |
| Operating humidity non-condensing | 10% to 90% |
| Storage temp | 14°F to 140°F (0°C to 60°C) |
| Storage humidity non-condensing | 10% to 90% |
View Support Resources for this product: